July 26, 2016
Guest Blog: Q&A with Bartley Blume from Bent Brewstillery
In 2007, Brenda Blume gifted her husband Bartley a Mr. Beer kit. That's what got the ball rolling toward the opening of Bent Brewstillery, the only brewstillery in the state of Minnesota.
"After my first batch, I [knew] that this was a hobby that could turn into a profession," said Bartley, who is the owner, president and head distiller at Bent Brewstillery, which is right in Roseville. The local business sells about 150 to 200 barrels of beer per month and about 180 gallons of spirits each month.
A former NASA employee, Bartley was able to combine his love for cooking and enjoying a nice beer through the brewstillery.
In a Q&A with the Roseville Visitors Association, he shares more about what drinks visitors should try, what he loves about Roseville, and more:
What are three of Bent Brewstillery's signature drinks that first-time visitors must try?
As a visitor to our taproom, patrons can only drink beer. The current laws in Minnesota don't allow for me to serve cocktails. I would highly recommend a pint of Nordic Blonde. It's the first beer I ever made as a homebrewer and it's our biggest seller. Then I would recommend one of our sour beers. We've got a diverse lineup of sours that rotates constantly. Then I would suggest one of our malt meads. We make malt based honey wines that also rotate constantly. Currently Pineapple Tyme is on tap.
Why should visitors come to Bent Brewstillery?
Our taproom is industrial yet comfy. It's a great place for great beer and great conversation. We've got a very diverse line up of beers that's sure to please everyone, even non-beer drinkers.
What sets the brewstillery apart from other breweries, distilleries and brewstilleries?
We are Defiantly Distinct. We do things differently than most. We like to make up beer and spirit styles. We make beer that tastes like wine. Just being a Brewstillery is rare. There's more than 4,500 breweries in the US, more than 700 distilleries, but somewhere around a dozen brewery/distillery combos.
What drink would you say best represents you and why?
We make a cocktail (that can't be served at our taproom) called Kissin' the Gunner's Daughter. It combines our navy-strength gin, Gunner Ghost, with our Nordic Blonde beer. Add a little simple syrup and some lemon juice for a great drink. I like the name because it sounds romantic and even Harlequin-esque. The true meaning is a bit more brutal. Kissin' the Gunner's Daughter is an ancient nautical term for being flogged while strapped to the ships cannon.
What is your favorite drink?
Enuff, our newest IPA.
Why did you choose to build your business in Roseville?
It was a marriage of convenience that has grown to be the best decision I ever made. We merged with an existing brewery called Pour Decisions that was located in this spot.
What do you like best about Roseville?
I love the fact that Roseville is centrally located and boarders both St Paul and Minneapolis. It's just 10 minutes from either downtown but has the comfort level of the burbs. I also love the way we've been received by the City and all their residents. Everyone has been welcoming and gracious and really makes us feel like we're part of the community.
What do you like best about your job?
I love experimenting with new spirits. I've got no less than a dozen different products in various stages of development. Everything from Grapefruit & Basil Chello, Grappa, Brandy, Spiced Rum, Silver Rum, Gold Rum, the list goes on.
If you weren't working at the brewstillery, what would you be doing?
Maybe owning a restaurant or bar.
Photos courtesy of Bent Brewstillery and Agnes Constante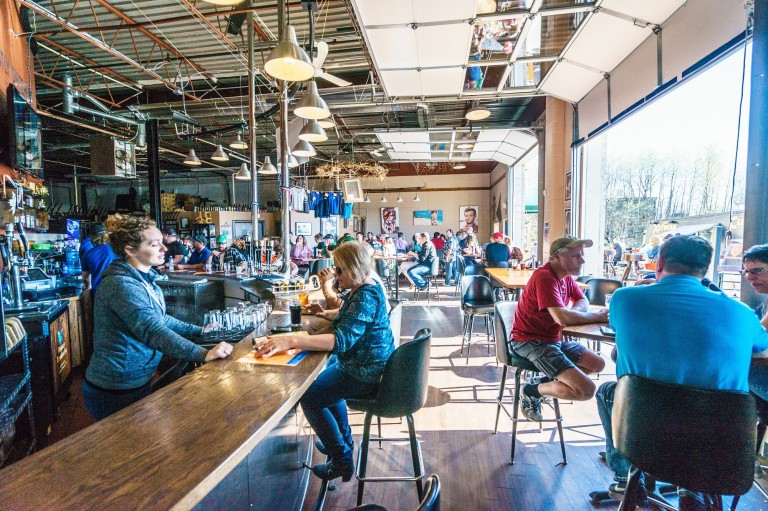 Bent Brewstillery1744 Terrace Drive
Roseville, Minnesota 55113