January 6, 2017
New in Roseville: Lucky's 13 Pub
Roseville is lucky to have a new restaurant — Lucky's 13 Pub! It's an Americana restaurant with an extensive menu ( it took a while to pick what we wanted!) and exceptional service.
All of their menu items are made from scratch in their kitchen which come out in BIG portions — although, it's OK to finish everything… we did!
They are open for breakfast on the weekends (9AM-1PM), lunch and dinner. It's a great place to get together with friends/family for a meal or to grab a drink at the bar and munch on their delicious appetizers (we had the L13 Tots – a must order).
Inside the restaurant you'll find that it's extremely cozy, making you want to stay for awhile. When you sit down at your table your server brings you a big bowl of fresh popcorn to snack on as you peruse the large menu.
We ended up ordering the BLT with french fries, the combo lunch special with a pastrami sandwich and roasted tomato & basil soup (and grilled cheese croutons – WHAT!?) , and the full pastrami sandwich (HUGE) and onion rings as big as your hand!
They also have a full bar, a make-your-own bloody mary station during brunch, BINGO on Wednesdays and Saturdays, and Sunday Funday with happy hour prices.
If you're looking for a unique space to hold an event, they have a private event space that can fit up to 75 guests. Obviously there's amazing catering right on site!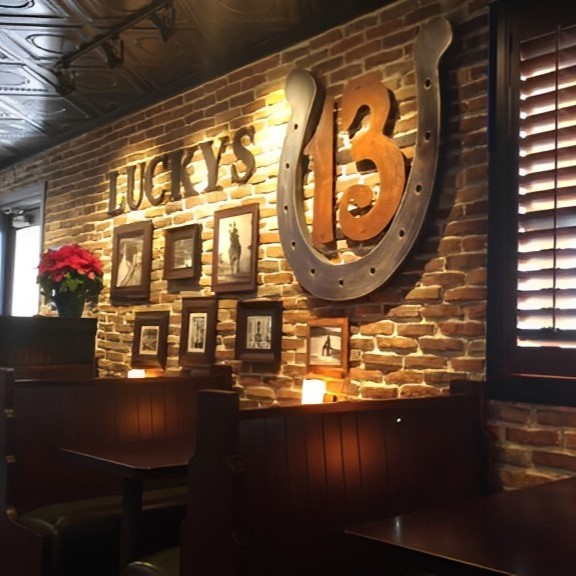 Lucky's 13 Pub2480 Fairview Ave N
Roseville, Minnesota 55113