September 24, 2014
Top 5 Fall Activities in the Twin Cities
Burnt orange leaves, pumpkins blazing, football games accompanied with bowls of chili, and pumpkin spice EVERYTHING; we are in love with Fall!
These things are all wonderful, but what are you doing this Fall in Minnesota? Well, we know what you should be doing… our Top 5 Fall Activities in the Twin Cities.
Pumpkin Nights
,000+ pumpkins light up the Minnesota State Fairgrounds for 2 weeks of amazing pumpkin art during Pumpkin Nights. Take the half-mile walking path to view the pumpkins in their larger-than-life displays. After your dazzling walk, grab some food and take part in activities for the entire family to enjoy. Don't forget to pick-up the scavenger hunt at the main gate to find hidden gems along the way.
Halloween Spooktacular
Take the fun of Halloween (costumes & candy) and add in a hayride, ghostly games, treats (no tricks), and entertainment around the bonfire during the Halloween Spooktacular! The event will take place at Roseville's Harriet Alexander Nature Center and there's a small fee per person for the event; registration is required.
Pine Tree Apple Orchard
Fall is all about apples… apple cider, apple pie, apple muffins, you get the idea. Pick fresh apples at Pine Tree Apple Orchard to make your favorite apple recipes at home. While you're there try some of their other events: pony rides, wagon rides, corn maze, and pick your own pumpkins.
Twin Cities Harvest Festival & Maze
Minnesota's largest corn maze is not only fun, it benefits the community. Every year the Twin Cities Harvest Festival & Maze partners with a local organization and donates a portion of their ticket sales; this year benefiting the Vikings Children's Fund. After you make your way through the maze, jump in the corn pit, visit the petting zoo, ride along on a hayride or enjoy all of the other fun activities.
Twin Cities Oktoberfest
Climb into your lederhosen, grab a beer stein and join in on the German style fun at the Twin Cities Oktoberfest! During the two-day event there will be plenty of beer to go around from Summit as well as traditional Oktoberfest foods, performances from dancers, games and other themed vendors. Not into beer? They're serving non-beer drinks too, which makes it a family friendly affair. Prosit!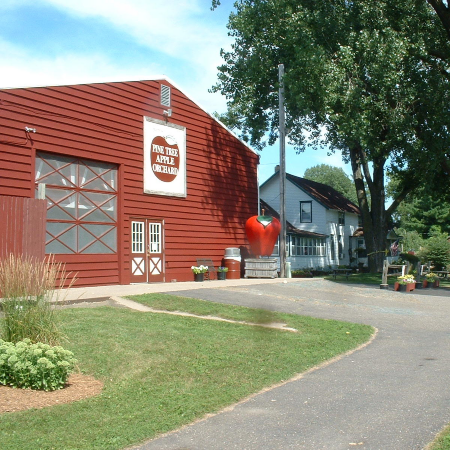 Pine Tree Apple Orchard450 Apple Orchard Road
White Bear Lake, Minnesota 55110