September 8, 2016
U.S. Bank Stadium Tour
U.S. Bank Stadium recently opened and has already hosted numerous events such as a rockin' Metallica concert, a country fun Luke Bryan concert and a packed soccer/futbal match showcasing AC Milan vs. Chelsea FC.
Whether it's football season or not, U.S. Bank Stadium is open for tours and we were lucky to take some time to enjoy a public tour of the stadium.
Ticket prices:
$19 for adults
$7 for children 5-12
$14 for seniors 55 & older
$12 for students (with valid ID)
$14 for active military personnel (with ID)
FREE for children under 5 (limit 2 per accompanying adult).
Tours are 90 minutes long and involve walking about 1.5 miles (comfortable shoes recommended). The tour gives you a behind-the-scenes look of the stadium such as the club levels, suites, press box, locker room, and even going on the field! You also learn about the stadiums features like the big pivoting doors and how snow melts off of the roof. We will leave the specifics for you to learn when you're on the tour!
We do have a lot of awesome photos that we captured, though.
We definitely recommend taking a tour of the stadium; especially if you won't be making it to any home games this year. Minnesota Vikings kickoffs their regular season at US Bank Stadium on September 18th against the Green Bay Packers. SKOL!
Coming to the Twin Cities for an upcoming game? Stay in Roseville! Roseville hotels are located about 10 minutes from US Bank Stadium. Book your hotel today.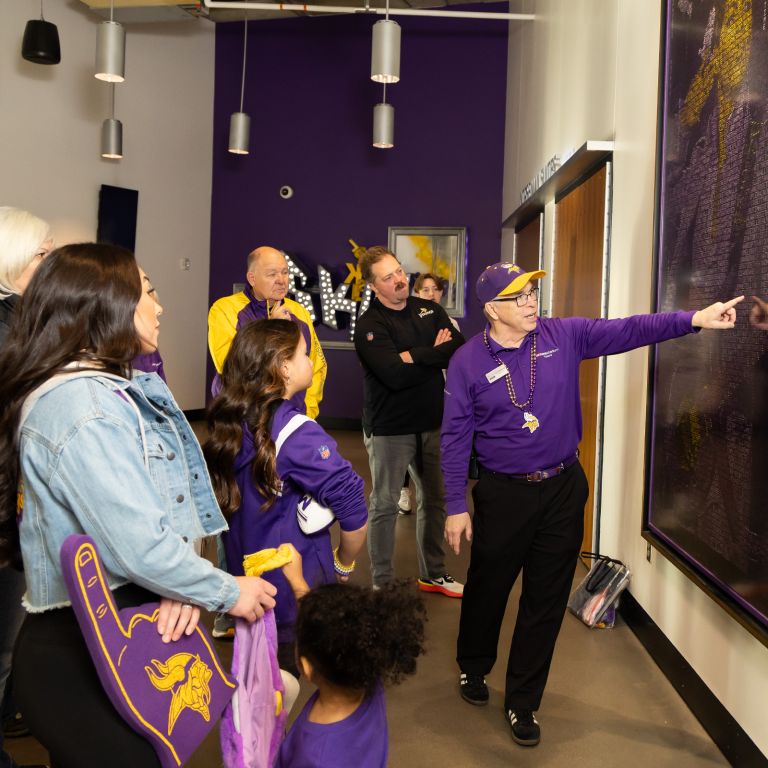 U.S. Bank Stadium401 Chicago Avenue
Minneapolis, Minnesota 55415