March 20, 2015
Patio Season in Roseville
Did you know that today is the vernal equinox? Maybe many of you know what that means [or maybe you Googled it like we did], but to put it simply, it's the first day of spring!
Spring in Minnesota usually means that the temperature's rising and we're all ready to step outside and enjoy the weather. What's better than enjoying the weather while sitting outside on a patio? Roseville is full of restaurants that feature patio dining/relaxing to give you that dose of vitamin D that you've been yearning for all winter.
What could be better than enjoying authentic Mexican cuisine with a frosty blended margarita out on the patio at Ol' Mexico? Maybe if you were literally in Mexico it could be better, maybe. They also have a lunch buffet, 11am-2pm that you need to check out ASAP.
Soak up the sun as you fuel up on good grub and signature drinks out on the Granite City patio before you hit up Rosedale Center for the newest spring fashion favorites. Or maybe come for happy hour M-F 3pm-6pm and Saturday & Sunday 12pm-5pm before you see the newest flick at AMC Rosedale.
Feel good about what you're devouring out on the Good Earth patio. They are partial to local growers and organic suppliers; and anti-factory farming, hormones and antibiotics. What does that mean? Just what we said, feel good about that Good Earth Planet Burger or Thai Chicken Wrap you just LOVED. Get a fresh juice to take with you to the beach!
Bring the taproom lifestyle outdoors on the patio at Old Chicago. With their huge list of world-class craft beers you're bound to find a new favorite or stick to what you already love with a classic. Pair your suds with one of their taproom classics like Oh My Spaghetti Pie or Build Your Own Mac n' Cheese.
A glass of wine, a bowl of Fettuccine alla Bolognese and twinkling string lights brings a glimpse of Italy to Roseville out on the D'Amico & Sons patio. Dine with a group of friends or order dessert for one with a cup of coffee [we won't tell].
We are thrilled to have a new patio in Roseville! Pizza Lucé opened their doors toward the end of 2015 and we've been waiting for a gorgeous day to eat pizza on their patio. We think patio pizzas, like the Baked Potato Pizza, should be a weekly thing and there's no better place than Pizza Lucé.
Cheer up with grumpy hour [happy hour] out on the patio, M-F 3pm-6pm, Saturday 9pm-12am and Sunday 7pm-10pm. Also, get down with breakfast/brunch & a $4 build your own bloody bar on Saturday and Sunday. Overall, they have a killer menu.
Roseville has many more restaurants with patios. Go out and find one and post it on your social media outlets with the hashtag, #RosevilleMN. We would love to see your favorites!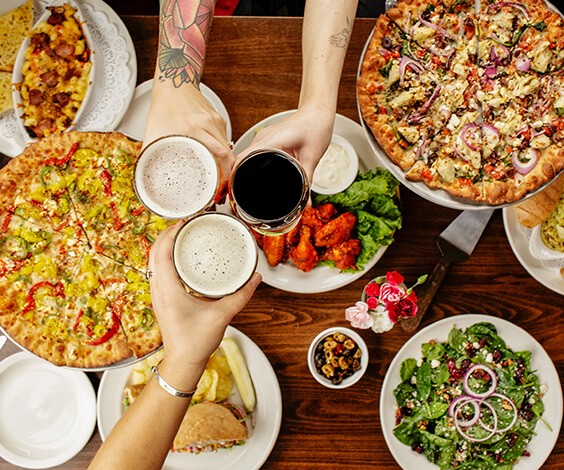 Pizza Luce2851 Snelling Ave N
Roseville, Minnesota 55113