February 26, 2015
Take a Closer Look: Guidant John Rose MN OVAL
Can you name where the largest outdoor refrigerated skating facility in North America is located?
That's right, it's located at the Guidant John Rose MN OVAL in Roseville, Minnesota. There's a lot to learn about this unique venue; let's get started!
Techie Facts
The outdoor OVAL ice is 110,000 square feet in size and is maintained by a state of the art cooling system with 800+ tons of refrigeration and 84 miles of underground piping. This means you can enjoy ice skating outdoors even when temperatures hit the 50s in Minnesota.
Ice Skating
Of course, the OVAL offers good old fashioned ice skating. Public skating usually starts in November and is open all winter long, ending usually in the beginning of March. It only costs $5.50 to skate and skate rental is available for $4 if you don't have your own.
Speedskating
The OVAL offers a 400 meter speedskating track and has hosted US Speedskating Championships, US Junior Speedskating Championships, American Cup Speedskating, and World Cup Speedskating. Olympians such as Annie Driscoll, Dan Jansen and Bonnie Blair have all used the OVAL for their speedskating training.
Minnesota Wild
Annually, the Minnesota Wild organize an outdoor practice at the OVAL for the public. This family friendly event is FREE and includes photos with reindeer, a visit from Santa, an appearance by Nordy, and free open skating before the MN Wild take the ice.
OVALumination
Lightly falling snow and ice skating have become a nostalgic past time for many people in Minnesota. When the winter months arrive, the OVAL transforms into OVALumination; heightening your skating experience with holiday lights draped on surrounding trees, illuminating the OVAL.
Skate Park
When the weather changes from cold to warm, the OVAL gets a makeover as well. One of the largest skate parks in the Midwest takes place of the ice during the spring, summer and fall months. It's used for recreational BMX biking and aggressive skating, but still offers enough room for roller hockey and inline skating on the side.
Outdoor Movies
Gather a group for a night at the movies out on the OVAL. Throughout the summer, the OVAL becomes a great spot to watch a family friendly flick. Bring chairs, blankets and snacks and sit back and enjoy the featured film on the OVAL's big screen.
Tapped & Uncorked
2014 marked the inaugural year of the PourFORParks Tapped & Uncorked event at the OVAL. Local craft breweries and wineries pour samples for the crowd, food trucks and local Roseville restaurants serve unique eats and a dance worthy music plays by a live band; what more do you need. Mark your calendar for October 2nd so you don't miss the 2nd annual Tapped & Uncorked event!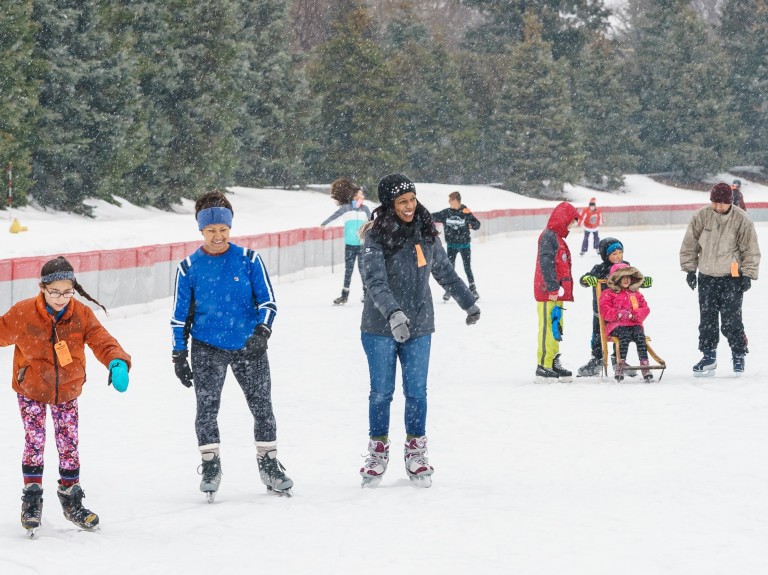 Guidant John Rose MN OVAL2661 Civic Center Drive
Roseville, Minnesota 55113